Guilin magnificent scenery attracts both local and domestic tourists. Tourism is one of the major industries in Guilin and for these reason a, a lot of investment has been directed to that sector. This therefore means that visitors will be well catered and will feel relaxed in this small but very famous city. With the amazing scenery, one has no reason not to enjoy their Guilin trip or Guilin travel mission for that matter. In addition, the people are friendly too,here you can see some Guilin tour packages will give more about that.
Here is a little information concerning Guilin. It lies in an area of about 28,000 square kilometer, South China. It has a small Chinese population of about 700,000 people. The area is a subtropical monsoon zone with a moist and warm climate. The height above sea level is about one hundred meters on the lower regions and 2,141 meters to the tallest mountain peak. The major river in the area is Li.River.
Guilin has one of the most spectacular views. It has a Karst topography which resembles too-like limestone mountain .It also resembles isolated monoliths. Poets and artist have drawn al lot of inspiration from such scenarios. This scenery is best viewed when a water body reflects its profile or whenever mist that occurs after raining clings to the pinnacles. There are several theories behind the formation of these mountains.
Aside from that, there are several tourist attraction sites that are found in the city. Elephant trunk hill is one of them. This feature resembles an elephant that has stretched its trunk and taking some water. This is where the name came from.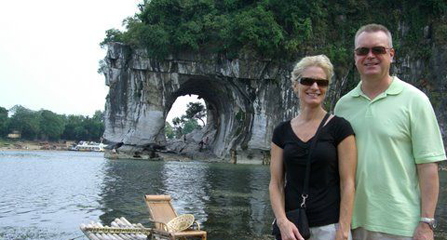 Seven Park star is another amazing feature. It got its name after the seven Karsts hills on it. While in top of it, one can view other sceneries from here.
The Reed Flute Cave is an intriguing gallery of limestone cave formation. It has now been enhanced with lightings of several colors which makes it very appealing. It is about one thousand and two hundred years old.
The Li River is the most beautiful sight in Guilin. Basically, it is located between Yangshuo and Guilin. It offers an ideal venue for a cruise or even a leisurely hike on its bank.
Yangshuo and the longsheng's rice terraces also offer natural and fascinating scenery to anyone who visits them.
Foreigners can also take part in walking and hiking while in Guilin. The Li River and the Longji Terraced Fields offer an ideal place or hiking or simply strolling too. Some of the places where clients may enjoy walking are the Two rivers and four lake circuits and Elephant hill from the Seven star Park. In the event that one finds it difficult to plan their diary, they are advised to contact a professional travel planner who can organize a customized a trip for them.
Needless to say, everyone is now aware the Guilin is really scenic. As a result, many visitors tend to take photos during their visit. However, not all of the photographers quite understand that taking photos can be a bit tricky. Photographers are required to seek advice from their colleagues who had similar experiences. Lastly, they should take good care of their cameras during their visit to Guilin at all times.